WELLCOME TO DIGITALSGHANA ONGOING I.C.T COURSE!
JOIN US TO LEARN HOW TO DESIGN WEBSITE AND OVER 25+ MOBILE APPLICATION PROGRAMS INCLUDING HOW TO MONETIZE AND UPLOAD YOUR APP INTO GOOGLE PLAYSTORE, APPLE STORE ETC.
The Next 3 Minutes You Will Spend On This Page Will Be The Best 3 Minutes In Your Life.
Dear Fellow Ghanaian,
My name is Sirthom A.K.A [Entrepreneur king].  I am an internet business consultant and also reputed member on many internet marketing forums and website in and out of Ghana.
Today, I'm offering you information that can guarantee you to design your own website and mobile application from your home or even your workplace.
Am into website and mobile app designing Companies. and am more familiar with the website, mobile design, and development etc. So am the expert in providing online training in Website Designing and Mobile App content guides that will help you to become a website and mobile app designer.
And I equally provide my students or clients a contract when I see that you are performing well.
We are into website, mobile designing and Development Company. We are more familiar with website, mobile design and development etc. So we are expert in providing online training in Website Designing and Mobile App content guide book that will help you to design over 20 mobile app programs for sale.
Online Website Design course is perfect if you are always wanted to create a professional website but needed the skills or knowledge to do so. At both the beginner and intermediate web-designer, this complete, easy-to-understand course will boost your understanding of website designing tools and techniques.
Looking for employment or self-employment? There is no better way to get your career on track than with website technology and design skills. With me you will gain the skills that employers and customers today require.
I believe that learning is a biological process and it takes place constantly. In this process, content stands in a superficial layer and it is our responsibility as a trainer to guide students to base their learning on their prior knowledge through critical thinking.
The website designing and mobile app study course is job-oriented. For learning a website designing need practice and practice help one an expert in website designing.
Start a career as web design mobile app developer and start raking millions of cedis
regularly. Yes, you can do if I can do it. You don't need to be a programmer to start this. Mobile App and web design Course Guide will show you step by step on how to create
a website, mobile apps and games without writing one line of codes. It will also teach you the top secrets I use to rake thousands of cedis every week like I do.
Why You Need To Learn or have a Mobile Apps for your business!
In today's market, virtually everything from purchasing to trading to payment can be performed on mobile devices using apps. In 2020, the revenue from this outstanding technology is expected to climb to $188.9 billion. That is a lot of income and profit generated using apps! Just take a look at the following facts: According to Statistics
an online statistics website, In 2015, global mobile app revenues amounted to 69.7 billion U.S. dollars. In 2020, mobile apps are projected to generate
188.9 billion U.S. dollars in revenues via app stores and in app advertising.
By 2020, mobile apps are forecast to generate around 189 billion U.S. dollars in revenues via app stores and in app advertising. As of March 2017, there were 2.8 million available apps at Google Play Store and 2.2 million apps available in the Apple's App Store. It is beneficial for any business to develop and promote an app to promote their business, generate leads, and increase traffic. This results in your business reaping some of the huge estimated revenue. And when you consider that mobile searches have grown more than 400 percent in the last year alone, you can see the advantage of your business can attain by having an app.
  Why you need to learn or have a website for your small or large! business
Do you have a business and don't have a website? If you said yes, it's almost as if your business doesn't exist.  In this modern world, people and companies are on the internet for information. Why do you think people visit a website? It's primarily to find information. And if you're in the business world, information is critical. You need to have a website for your customers. It needs to contain information about what you can do for them. Below are just a few of the advantages and benefits of having a website for your business.
Less Expensive > Have you ever advertised your business through various forms such as printed media, radio, television or by other means? It's expensive! Investing in advertising is necessary, but it takes a lot of money. Having a website will make promoting your company less expensive. Many versions of offline advertising available on the internet
Advertising > A website is more environmental friendly when it comes to advertising and marketing. There are lots of ways to advertise your products or services through the internet. One example is Facebook ads, an advertising feature offered through Facebook. Another one is called SEO.  This is a major advantage for your business. Having a good SEO service provider can boost the ranking of your website which quickly results in increased sales and higher profits.
Satisfaction >
Having a website will be more convenient for your customers and leads. Make it easy for your customers to purchase from you! Many will be more likely to visit your website, rather than driving a car to your physical location and browsing for your products. From a customer's point of view, it's better for them if they don't have to ask anything. They can just find what they're looking for on your online site.
Better Relationship >
Having a website can build better relationships with your customers. You can send messages instantly to your customers through email. Also, your customers can review your products online and can also leave feedback for you and your business. It's best to always send your customer a message. This is essential
for building good relationship with them. You can even give them more information about your business through messages or emails.
Educate Your Customers >
Your website can offer free advice about your products and services. This information can be delivered at any hour in a well thought out and consistent way.
Opportunities >
A website gives you the opportunity to prove your credibility. You have to tell your customers why you deserve their trust through your website. This can earn positive feedback for your service and products. Also, your website serves as a place for a potential investor to explore what your business is about and what it can do in the future.
Increase Your Sales > If you are a business owner, more visitors  leads to more potential sales. That's how your website will help you. You can drive more people to your site by consistently updating and promoting the contents of your site. The more informative your site is, the greater the possibility of increasing your sales.
At the end of the this program, all of my students can ably to know how to great Facebook page and how to run Facebook advertisement.
I created this Website to give beginners a fast and simple way to create a website and mobile app without having to learn HTML/CSS coding or read long, boring tutorials.
In this guide, I will show you how most web developers build their sites and how you can avoid expensive website builders that are often too limited for a bigger site.
I also help you avoid some mistakes that I did when I started out.
Ready to launch your website today? Let's get started…
Before You Start, Read This:
There are hundreds of different website building platforms and website builders around the market.
WordPress, Wix, Joomla, Drupal… Just to name a few.
You can also code your website from scratch, but I wouldn't recommend it on mainly two reasons:
It just takes too much time (seriously)
Your end result will be mediocre at it's best…
But which one should you choose?
Let's take a look at these recent statistics made by BuiltWith.
How People Build Websites in 2019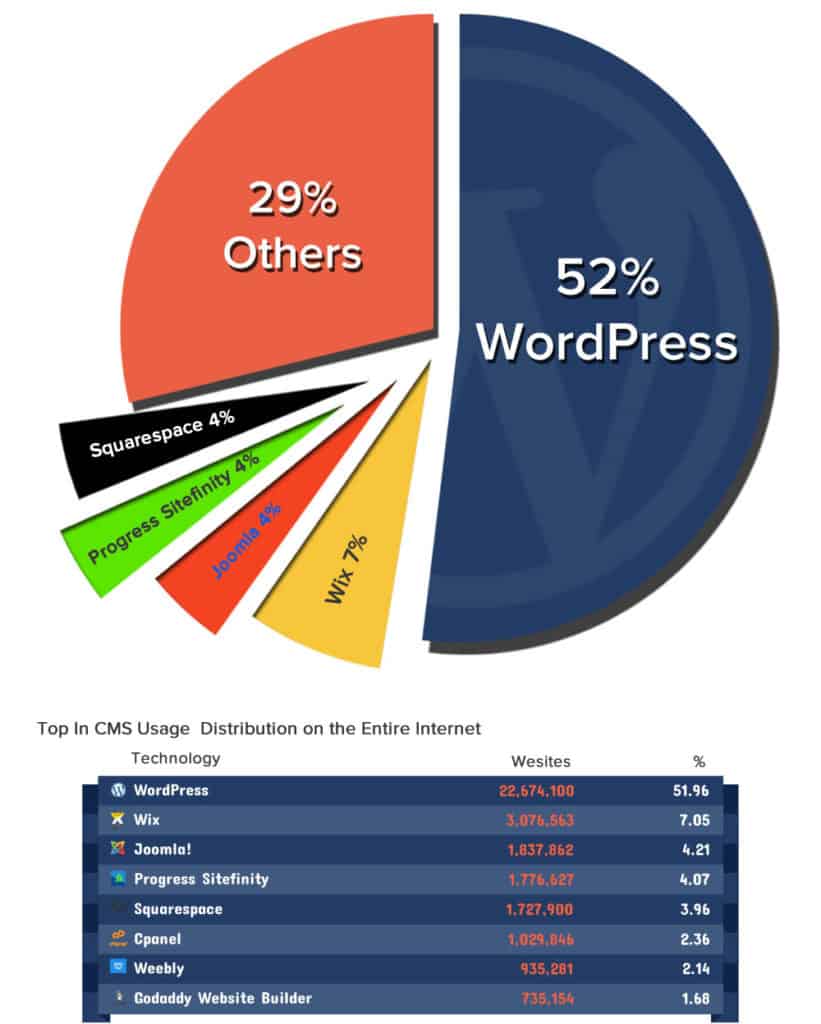 what will i benefit from this program?
1) This program will turn you to a professional Mobile app Developer with no programming
knowledge required. It will only take few minutes to build your first app. All you need to provide is links to RSS/Atom feed or website, they are automatically converted into
stunning 100% pure native apps for Android. You have freedom to list/sell app on Google Play and many other Android Markets. Earn Ad money with embedded Ad or get thousand of installations bring new constant visitors to your website.
2)An easy step-by-step website setup guide written by web developers who have created hundreds of websites and helped thousands of others to create their own website.we spend a great deal of time reviewing products and providing good reading content for our readership. Many of whom are familiar with the workings for a website running on WordPress. This guide is intended to help anyone who is creating their first website, likely with WordPress.
It's the platform we recommend and use for our website.A step by step tutorial – we start off with finding the right content management system, choosing a domain name, then the right web hosting service, adding the right themes, plugins and customizing your site's appearance. By the time you are done with this how to make a WordPress website for beginners guide you'll have a full fledged website ready to go.
As A Way Of Saying Well Done For Taking The Decision To Start Website design and mobile, I Have Decided To Offer You some Powerful Bonuses.
        (1) Simple guide to start App design without writing coding!
        (2) Steps to create WordPress website without coding skills!
        (3) How to create Facebook advert for you business!
       (4)

My personal 100% support!
 I will give you my Full Support, I will guide you through phone calls and emails until you you complete your project on weather mobile or website design . Unlike other people that will give you e-books and abandon you, I will support you and make sure you succeed in what you are doing.
          Join My

[700 Students]

Sense This program Started On January 2019!!
          See some comments from students of this course!